Educator

ACADEMIC AND RECREATIONAL TEACHING POSITIONS
Victoria Academy of Dramatic Arts
Diploma Programme faculty: Acting Master class, Screen Acting

Victoria, BC (2014 -2020)

Pacific Film & New Media Academy
Victoria, BC
Guest Instructor: Acting for Screen
(2013)
Canadian College of Performing Arts
Victoria, BC
Acting Instructor: Transition to screen
(Fall 2010)
University of Victoria
Victoria,BC
Theatre Department
Guest Lecturer Acting
(Spring 2006)
Simon Fraser University
Kamloops, BC
First Nations undergraduate Arts program
Course Director: Introduction to Acting
(Fall Term 2005)
York University
North York, ON
Faculty of Arts
Theatre department
Course Director: Acting, Directing
Atkinson College - Course Director: Directing
(1996-1998)

The Second City
Toronto, ON
Workshop Training Centre
Instructor of original curriculum in Narrative Improv
(2000-2002)

The Improv Studio
Toronto, ON
Instructor: Narrative improv, advanced improv
(2001-2002)

The Funnies Studio
Calgary, AB
Guest workshop instructor: Humour Writing, Character Comedy
(2005)

Real Millenium Comedy Festival
Nakai Theatre
Whitehorse, Yukon
Featured workshop instructor: improv comedy.
(2001)

Edmonton Public Schools
Department of Continuing Education
Edmonton, AB
Instructor of recreational courses in Script Writing, Introductory Acting for Adults, and Improvisation.
(1994-1996)
Drama Instruction to Youth
Kaleidoscope Theatre, Victoria, BC
Instructor: Acting on Camera (2015)
Young Playwrights Festival: Director 2 new plays (2010)
Festival dramaturge, improv coach for teen new works festival.
(2008, 2007, 2006)
Circle in The Square
Kitchener, ON
Summer drama program instructor, mentor to directing students.
(1999, 2000)

CAMP Circus and Magic Partnership
City of Winnipeg, MB
Spring break drama program for kids at risk.
(2002)

St. Albert Children's Theatre
St. Albert, AB
Summer drama program senior instructor
(1994)

Catholic School Board of Alberta
Fort MacMurray, AB
Visiting theatre professional, acting workshop instructor senior high students
(1991)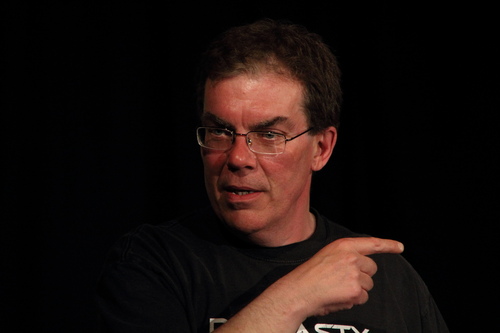 Coaching
Ian has provided private coaching and mentorship to many emerging theatre artists. He has also volunteered his time to offer advice and encouragement to promising young performers, playwrights, and directors.
Testimonial
"It felt more like Jedi training than improv training, with Ferguson bearing more than a passing resemblance to Yoda - Ferguson told me he created these exercises to help develop timing and teamwork. In retrospect they worked, although I'll be damned if I could explain how. I guess the Force must be strong."
-Pete Nowak, The Globe and Mail (Dec. 11, 2000)

Education
Ian Ferguson holds an MFA in Directing from York University, a BFA in Acting from the University of Alberta, and a diploma in Design from Mount Royal College.